We design survey kiosk solutions that store customer feedback in databases.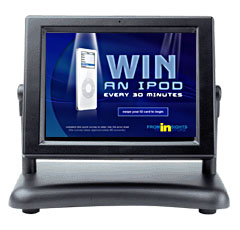 Survey Kiosk Details

Each survey kiosk is a custom, graphically rich application that is designed according to your colors and specifications.

Our survey kiosk system is comprised of one or more of the following components:
Single Select [Yes/No, True/False, etc.]
Multi-Select (Touch All Products of Interest)
Data Field Collection (Name, Email, Phone, etc.)
Database of Answers
Attraction Sequence
| | | |
| --- | --- | --- |
| | Certain data field collection may be expedited by scanning a Driver's License, Trade Show Badge, or similar ID object that contains either a Magnetic Strip or a 1D or 2D Bar Code. | |

The net result is a database full of customer feedback and/or data, ready for you to analyze! The database can be stored on the local kiosk machine, or be hosted live by our server for real-time feedback and analysis - your choice.

Finally, we can also assist with finding the right hardware provider to host our software solution (assuming you do not already have your hardware selected).




Rocky Mountain Multimedia Est. 1994
Glenwood Springs, Colorado
303.933.7300

Copyright © 1994-2013 by Rocky Mountain Multimedia, Inc.
All Rights Reserved.

Dave Heyliger heyliger@rockmedia.com




Survey Kiosk / Questionnaire Kiosk Soltuion. Collect Customer Information in a Database. Capture data at your next trade show or event using a Survey Kiosk designed by Rocky Mountain Multimedia. These applications store the captured data in an Access database which will allow you to further analyze or import as you see fit. Features of a Survey Kiosk include: Custom Interface Design Easy-to-Use Navigation & Buttons Unlimited Questions & Screens Text-Based Input via Touch Keyboard Data Stored in Microsoft Access Database Custom Attraction Sequence