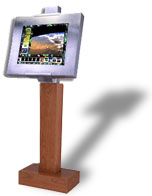 Sample Kiosk Projects
Created by Rocky Mountain Multimedia

Below is a partial list of kiosk applications developed by Rocky Mountain Multimedia for various clients. All kiosk graphics and layouts were created by Rocky Mountain Multimedia except where noted in the project description. Each kiosk project contains a short project description, plus some links to a few online screen captures.


"Street Legal Motorcycle Muffler Sounds" - Harley Davidson





Harley Davidson hired Rocky Mountain Multimedia to create a Street Legal Sound Sampler kiosk for the National Dealer Show. The kiosk software enabled dealers to experience the new sounds via kiosk to help prepare them for the upcoming model releases.





"View From Space" - Astronaut Hall of Fame






This kiosk allows a user to select an area of Earth and also what type of object{s} to view as seen from the Space Shuttle. It is currently located in the Astronaut Hall of Fame in Florida. The interface and software were developed in-house by Rocky Mountain Multimedia. The actual pictures from space were courtesy of NASA. The software was custom written specifically for this project.





"Charm Selector" - Rembrandt Charms





This kiosk allows jewelery store visitors to search and preview thousands of charms with just a touch. After previewing the available products, users could then print out which charm{s} they wished to purchase. By providing this self-service to shoppers created more free time for jewelery sales clerks to focus on other sales. A win-win for both the client and the customer.





"Photo / Email Kiosk" - Merck Pharmaceuticals






This kiosk allows visitors at the Merck Trade Show Booth to take a photo of themselves and then email the image to one or more friends. Merck uses this kiosk to capture emails as well as print out a picture of the user surrounded by Merck marketing messages.





"Gerald R. Ford Vilar Pavilion" - City of Vail, Colorado






This kiosk allows visitors to find out about the events, tickets, and sponsors of the Gerald R. Ford Vilar Pavilion Amphitheater in Vail, Colorado. Sponsorships are actually shown via an HTML format allowing for easy updates without any further action by Rocky Mountain Multimedia.





"Internet Kiosk Samples" - From a Variety of Clients





These kiosks were web based kiosks that featured the client's Internet site. Each kiosk had a graphically rich user interface, and restricted browsing to their dotCom only. When no one was at the web internet kiosk, a series of Attraction Screens would appear round-robin.





"Horseracing Handicapping Printout Kiosk" - The Winner's Edge






This kiosk allows a user to pick a horse racing handicapping report that was automatically downloaded the night before the race. The kiosk changes button selections according to the downloaded report{s} available. A $5 payment produces the report selected.





"Publication Locator" - Gatoraide Sports Science Institute






This kiosk allows visitors at the Gatoraide Sports Science Institute to search for publications based on author, topic, or content. In addition, the users can also surf the Gatorade Sports Science Institute web site for additional information live via the Internet.





"Human Resource Kiosk" - North Texas Human Resource Group






This kiosk allows unemployed visitors to find themselves in the database and then record their activities for the day at one of five North Central Texas Workforce Centers. Users register activities similar to taking a survey. All results are stored in a database for later processing and evaluation.





"Hospital Information Kiosk" - Prescott VA Medical Center






This kiosk allows veterans to determine available services and also to become acquainted with the Prescott VA Medical Center. It contained full voiceovers and easy-to-read menus.
Rocky Mountain Multimedia Est. 1994
Glenwood Springs, Colorado
303.933.7300

Copyright © 1994-2023 by Rocky Mountain Multimedia, Inc.
All Rights Reserved.

Dave Heyliger heyliger@rockmedia.com




Below is a partial list of kiosk applications developed by Rocky Mountain Multimedia for various clients. All kiosk graphics and layouts were created by Rocky Mountain Multimedia except where noted in the project description. Each kiosk project contains a short project description, plus some links to a few online screen captures.