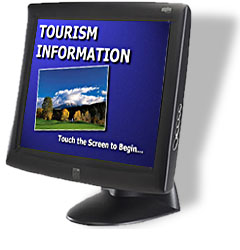 Tourism Kiosk Details

Each tourism kiosk is a custom, graphically rich application that is designed according to your colors and specifications.

The Main Menu System includes categories similar to the listing below:
Dining,
Lodging,
Shopping,
Activities, and
Services
...along with any other Main Menu option you might want to include within your tourism kiosk application.


Each Main Menu topic may or may not have Sub-Menus. For example, Restaurants may have Italian, Greek, Japanese, Family, etc...

When a visitor finally drills down to the target, a Details Screen is presented.

The Details Screen contains all the information about the business or organization.


Optional Touch-to-Print and Touch-to-Dial, and Mapping features further enhance the visitor's experience.

Finally, we can also assist with finding the right hardware provider to host our software solution (assuming you do not already have your hardware selected).




Rocky Mountain Multimedia Est. 1994
Glenwood Springs, Colorado
303.933.7300

Copyright © 1994-2013 by Rocky Mountain Multimedia, Inc.
All Rights Reserved.

Dave Heyliger heyliger@rockmedia.com




Tourism Kiosk / Digital Concierge Kiosk Solution. Create & Manage an Information Network. Leverage the talents of Rocky Mountain Multimedia by having them design your own custom information network. Place one or more units throughout your community and manage your own digital concierge. Features of the Digital Conceirge include: Custom Interface Design Buttons for Restaurants, Activities, Etc... Easy-to-Manage Menu Structure Optional Printout Capability Custom Attraction Sequence