Internet Kiosk Details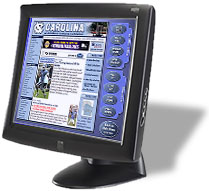 Each Internet / Intranet kiosk is a custom, graphically rich application that is designed according to your colors and specifications.

Each system is comprised of one or more of the following components:
Custom Graphic Design
Optional URL and Email Restrictions
Page Navigation Controls
Optional Pop-Up Keyboard
Attraction Sequence
You have the option to "surf the local hard drive" and/or "surf the Internet" - it all depends on how you plan to deploy your Internet Kiosk application.

The optional URL and Email Restrictions allow you to keep your visitors "within your own dotCom", and/or send emails to specified targets.
Rocky Mountain Multimedia Est. 1994
Glenwood Springs, Colorado
303.933.7300

Copyright © 1994-2013 by Rocky Mountain Multimedia, Inc.
All Rights Reserved.

Dave Heyliger heyliger@rockmedia.com




Specializing in Corporate Intranet Kiosk Internet Kiosk Solutions. Rocky Mountain Multimedia has created a wide variety of Internet / Intranet touchscreen kiosk solutions for the corporate world. If you're looking to display your web site in a secure kiosk environment, then consider using our field-tested kiosk software in conjunction with RMM generated user interface kiosk components to produce a kiosk winner for both the client - and your corporation. Standard features of this type of kiosk solution include: Optional kiosk URL and Email Restriction Capability Page and Navigation Control kiosk Buttons (Scrolling / Loading) Optional Pop-up kiosk Keyboard Custom kiosk Designed Attraction Mode Sequence